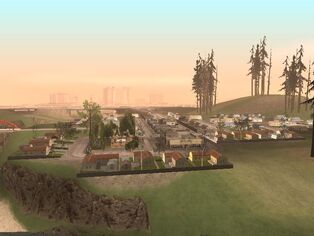 Palomino Creek is a moderately sized town in Red County. It is located in the northeastern portion of Red County, San Andreas. The city's population was 7,012 in 1992, but has risen greatly due to its environment and housing. The current population is estimated to be at least 13,506. The small town is a known location for private and community-centered housing and is named after the nearby creek, Palomino Creek is a popular tourist location in the countryside. The ZIP code for Palomino Creek is 21332.
Palomino Creek once had a history for crime during the Wild Western times, it has much history and once held notorious cowboys as residents. To present date the area is a quiet upper class neighbourhood, with crime almost ceasing to an end.
Notable former and current Residents
Edit
Ad blocker interference detected!
Wikia is a free-to-use site that makes money from advertising. We have a modified experience for viewers using ad blockers

Wikia is not accessible if you've made further modifications. Remove the custom ad blocker rule(s) and the page will load as expected.