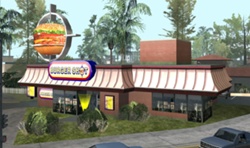 Marina
is a district in western
Los Santos
,
San Andreas
, most commonly known for the Boat Shop at one of it's piers within the small canal that is, as the name suggests, used as marina. While consisting mostly of decent houses on The Waterfront (Path down to the Boat Shop) and Giggles Avenue, the housing areas on Hell Street is in Marina as well, the only two businesses in that area are the Book Emporium and a Burger Shot fast-food restaurant dubbed as
Boss Burger
. Marina's zip code is
90210
which it shares with
Rodeo
,
Richman
, and a small part of
Market
, to be precise the building complex
Market Station
is located in. It is curently owned by
Andrew Wolforth
.
Crime is almost non-existent in Marina, and since there are no well-populated meeting places known in the area and the richer households being situated in Rodeo and Richman, it is uncommon for Criminals to target the area.
= Residents =
The following people are known to live in Marina or at least have a house within the area.
* Linda Di Francisca
* Jason & Nicole Ford
* Emma Lewis
* Andrew Wolforth
Ad blocker interference detected!
Wikia is a free-to-use site that makes money from advertising. We have a modified experience for viewers using ad blockers

Wikia is not accessible if you've made further modifications. Remove the custom ad blocker rule(s) and the page will load as expected.