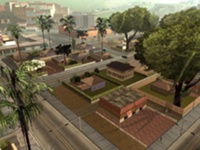 Jefferson
is a neighborhood in northern Los Santos. The neighborhood, once a multi-gang territory, has transformed into a mixed middle class enclave of Irish-Americans and Blacks as part of the
Central Los Santos Revival
.
Jefferson's zip code is 90026.
Sub-divisions
Edit
Jefferson's multi-ethnic culture as well as division of wealth and zoning has made it a somewhat segregated district. Often, the district is divided into multiple sub-divisions:
Four Points
Edit
Main article: Four Points
The Four Points is an Irish-American neighborhood, located in Jefferson. It is also known as Jeffersontown by outsiders and referred to as "the Square" by those in nearby neighborhoods. Four Points is also often reffered to as Brickway. While the neighborhood remains a white neighborhood with a majority of Irish Americans, Black and Asian minorities as well as whites with other ethnicities began using the term Brickway to describe the area. The majority of the locale are of the Roman Catholic faith.
South Jefferson
Edit
South Jefferson is a majority Black neighborhood consisting of everything south of Carson Street. Households in the area are generally poorer and have a higher crime occurance. Landmarks such as the Watts Towers and Gregor Park are often mistaken to be part of the neighborhood.
North Jefferson Plaza
Edit
North Jefferson Plaza is a shopping center on the borders of Las Colinas and Glen Park. Adjacent to the shopping center is Jeffersontown Autos, which has been long closed since the deceasement of it's owner, and a small residential district.
Jefferson Motel
Edit
The Jefferson Motel is a boarding place in north Jefferson notorious for it's many past and present gangs. Although the North Jefferson Ballas controlled it in 1992, other gangs have taken control of it since.
Demographics
Edit
Jefferson is primarily white with an admixture of Blacks and Asians. Jefferson residents usually range from working to middle class. Although gentrification has taken place, it made little effect on the racial stature of the neighborhood.
Jefferson is known for its crime. Much of this crime is violent and gang related. Jefferson's property crime rate is extremely low, but assaults, robberies, and even sometimes murders, are very common. Jefferson is also linked to former criminal groups such as the North Jefferson Ballas, and Jeffersontown Mob.